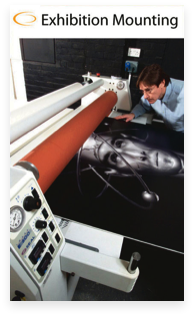 Graphic display Mounting and Finishing
To complement our printing services we also have our own in-house mounting and finishing section
We can mount prints and posters onto a variety of materials such as Foamex, Diabond, Forex and Ultraboard. The front can be laminated with a gloss, satin, or anti-scratch seal or an anti-grafitti laminate for outdoor use.
Prints up to 1.5m x 3m can be mounted and laminated in one section. If you are unsure which material to use contact us and we can advise which will be best suited to your needs.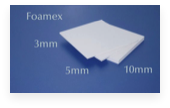 Foamex
Thickness: 3mm, 5mm and 10mm Available sheet size: 8ft x 4ft and 10ft x 5ft Foamex is a hardwearing, rigid PVC material suitable for indoor and outdoor use. Ideally suited for long term usage, public areas and exteriors, signs and graphics.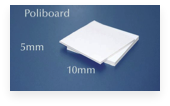 Poliboard
Thickness: 5mm and 10mm Available sheet size: 8ft x 4ft A lightweight foam centred board for exhibition panels, point of sale and display.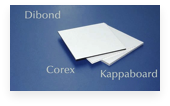 Dibond
Aluminium composite material, ideally suited for long term outdoor use. Please contact us for sizes available.
Corex
Ideal choice for cost effective short term use - for example estate agent signs.
Kappaboard
Thickness: 5mm and 10mm Available sheet size: 5mm and 10mm An alternative to Poliboard, it is grey centred and more rigid, giving a lightweight flat finish with an added bonus of a fire rating.
Encapsulation
We can encapsulate from 2X2" to 60" in 6 thicknesses with either a gloss, satin or matte finish as standard.
If your requirement is more specialised we offer Crystal (textured), UV protection .
If you have a requirement for encapsulation big or small we are here to help, offering you all the help and advice you need.
• Top Quality
• Fastest turnaround
• Lowest prices
• Nationwide service